We have just started our latest landscaping project on a small garden in Wawick, which is to install an easy maintainence garden to compliment the new extension.
We also had the pleasure of hand digging the foundation for the build, and as the access to this garden is all through the house, the spoil was left in the garden so we could have a raised lawn area & patio at the internal floor level.
The lawn area is going to be raised using large timbers, and astro turf will then be laid down on a screed of compacted sand.
When timbers are used for retaining a raised area, it is always a good idea to protect the wood from rotting out, so we have sat the timbers onto the paving, and then set sections of paving slabs on edge, in concrete to retain the ground, and keep the earth away. This method also allows the timber to be bolted from the inside, so there are no visible fittings on the outer face, leaving a much cleaner finish.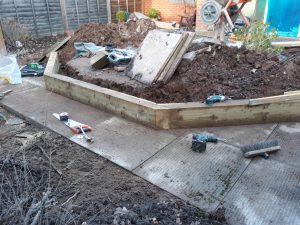 To be continued………….